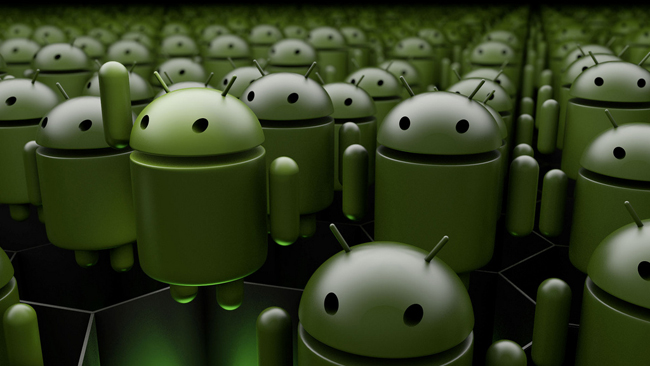 According to a recent survey by mobile research firm, research2guidance, the smartphone app market is enjoying explosive growth and is currently worth $2.2-billion dollars, with 42.7-million smartphones operational in the United States alone.
Apple started the trend towards mobile apps with their "great leap forward" — the iPhone app store. But momentum has shifted and most app developers believe that by 2013 "Android will have become the mobile platform which offers the highest business potential for mobile app developers".
When Apple opened the iPhone app store it started a snowball-effect that has completely changed the mobile market. Initially, the company cornered the market, and no other platforms could deliver anywhere near the amount of apps available for the iPhone (more than 225 000 apps), nor the number of downloads that the apps received. But it was only a matter of time before the competitors began developing innovative systems and chipping away at Apple's lead.
Research2guidance found that in the first half of 2010 Android made the biggest progress in terms of number of apps, downloads and reach. The Android Market Place currently hosts over 70 000 apps and is growing steadily.This seems to be largely due to the fact that the operating system is open and developers are free to do whatever they want.
Apple, on the other hand, has tried to keep the iPhone app market completely under its control. This heavy-handed approach seems to be resulting in Apple's slowing growth, as more and more mobile phone producers and developers are adopting for the Android platform.
"The hype cycle now has shifted from Apple to Android and Mobile Web technologies like HTML5, which leads developers to think that they could make more money by developing on Android and on Mobile Web platforms compared to the IOS platform in 2013. This is based on the assumption that Android OS will continue to be the number one OS choice of OEMs in the next years, and that advertisement-based business models will become the main revenue model in the mobile app world." – research2guidance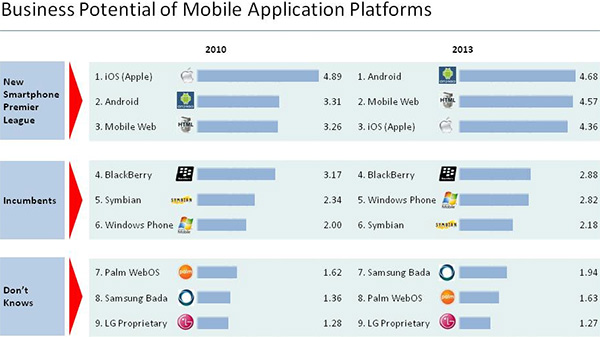 Looking at other competitors, the survey went on to state that "BlackBerry has some advantages because of its concentration on the business user community. Windows and Symbian are viewed as old platforms where app development is difficult and time consuming with mediocre return on investments. Still, there is a share of the developer community which believes that especially Nokia and Windows will strike back with their new mobile platforms coming out soon."
There are also a number of unknowns cited in the survey, particularly with regard to mobile apps being developed by LG, Samsung and Palm, which could potentially develop some breakthrough technologies by 2013.
Related articles
Topics for this article