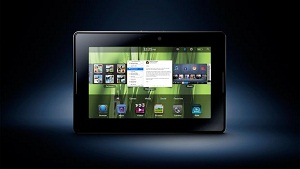 The BlackBerry PlayBook has been at the forefront of tablet news over the last week, with tech pundits hailing it as the third competitor in an otherwise two horse race between the Samsung Galaxy Tab, and Apple's iPad. Research In Motion (RIM) co-Chief Executive Mike Lazaridis revealed the BlackBerry Playbook, a 7-inch tablet device hailed as the "first professional tablet" at their annual BlackBerry Developer Conference held in San Francisco last week.
Smaller than the iPad and measuring 130mm x 193mm x 10mm, mobility was touted as the decision for the PlayBook's 7-inch form factor, with the intent of "amplifying" the BlackBerry experience for corporate customers and consumers on the move. Through BlackBerry smartphone and PlayBook pairing, the larger tablet display enables seamless viewing of email, BBM™, calendar, tasks, documents and other content that resides on the smartphone. The tablet and smartphone can also be used interchangeably without worrying about syncing or duplicating data.
The PlayBook's hardware specifications are impressive, boasting a 1GHz ARM Cortex A9-based dual-core processor, 1GB RAM and a 1024 x 600 resolution capacitive touch wide-screen with full multi-touch and gesture support. The device has dual HD cameras; one 3MP front facing and one 5MP rear facing camera, that support 1080p video recording with a micro-HDMI connection for output.
The PlayBook will launch as a WiFi only device at first, which is a significant drawback, but it will be able to pair with a BlackBerry smartphone for sharing data and its 3G data connection via a secure Bluetooth 2.1 connection. 3G and 4G models are planned for release next year.
At least on paper, the PlayBook leads over other devices such as the iPad and Galaxy Tab in terms of hardware specifications, which is a real competitive advantage.
Lazaridis described the yet to be released PlayBook as "enterprise ready" with full device management solutions for Blackberry Enterprise Server integration. In a world dominated by Apple's iPad, the PlayBook as a business tablet is an important distinction. Just as RIM has targeted the corporate world with its BlackBerry smartphones, the same strategy might prove to be the edge they need to compete in the tablet space. At the same time, in an apparent contradiction, the PlayBook was said to be an "incredible gaming platform".
Thanks in large part to the PlayBook's operating system, the device enjoys the promise of both an enterprise and consumer market future. Research In Motion purchased QNX Software Systems for about US$200 million in April of this year and debuted its first QNX-based operating system on the PlayBook. QNX (pronounced "kinnix") brings with it "baked in" multitasking, security, scalability and performance that can support rich user interfaces, OpenGL, HTML 5, Flash 10.1 with hardware acceleration, a WebKit Browser and high-quality multimedia support.
QNX has been well received, and a RIM VP recently confirmed that QNX would in fact be finding its way to BlackBerry smartphones in the long run, and will ultimately replace the existing BlackBerry OS.
Developers were wooed with the promise of a POSIX-compatible native SDK, WebWorks, RIM's framework for leveraging web technologies such as Adobe's Flash and AIR, HTML 5, Javascript and CSS to create full applications for the PlayBook, as well as a Java Virtual Machine to run applications developed for BlackBerry OS 6. Even though RIM has encouraged developers to develop applications for the PlayBook using its new developer tools, RIM co-Chief Executive Jim Balsillie, did make mention that it will run existing apps for BlackBerry phones.
On the flip side of the coin, the PlayBook has some ostensible problems:
The PlayBook was exhibited behind sheets of plexiglass, playing a series of conceptual promotional videos, and to date, there has been no hands-on reviews done to confirm any of the announcements.
With the holiday season approaching, RIM's announcement might have been strategic, but at what cost? With the PlayBook now an option, some hardcore BlackBerry fans might opt to hold out on buying a competing tablet, but with with a release date set for the second half of 2011 however, even if RIM were to deliver on their lofty promises, competitors have time to play catch up.
BlackBerry smartphones have always enjoyed the reputation of having the best physical keyboards. The omission of a physical keyboard on the PlayBook has been a topic of debate, but I suspect that with the inclusion of a micro-USB port, hardware manufacturers could already be planning a keyboard dock, along with other accessories.
No pricing details have been released, and it is critical for RIM to price the PlayBook competitively. Hopefully RIM will match the price of its main competitors, the iPad and Galaxy Tab, or provide a two-for-one bundle, where you get a BlackBerry smartphone and PlayBook on contract. BlackBerry users have always enjoyed cost effective, unlimited data plans thanks to the BlackBerry Internet Service, and so bundling would make sense as the WiFi only PlayBook would be able to share a BlackBerry smartphone's cellular data plan.
The PlayBook is one of the few devices RIM will release without an interchangeable battery.
The PlayBook's dual cameras have some interesting "Augmented Reality" or "AR" implications.
Unfortunately no mention of a GPS chip or compass was made in the announcement. The omission of these technologies would hamper vision overlay experiences.
By the numbers the PlayBook is a compelling product. It stands head and shoulders above its competition in terms of hardware specifications, and with a brand new operating system in the form of QNX, RIM has a real chance of building something fresh and scalable if they deliver on their promises.
One feels however, that the announcement of the PlayBook has been a bit premature, with competitors now fully aware of where RIM is headed. If RIM are too slow to market, the iPad 2 or any one of the litany of upcoming Android devices (think Gingerbread) could kill the PlayBook in its sleep.
Related articles
Topics for this article