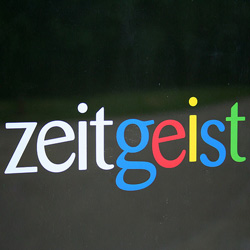 Apple's recently launched iPhone4 has received greater internet search interest than Justin Bieber, despite the fact that the teen pop sensation was actually in South Africa at the time. This revelation comes from Google Zeitgeist– a tool that provides insight into internet search trends.
SA's fascination with the latest gadgets is clearly evident, with the iPhone 4 topping the list of fastest rising searches from the last seven days, while Bieber only claims the number five spot. The YouTube star got SA teenyboppers in a flat spin last week, when he breezed into the country for some 'rest and relaxation', and tweeted regularly about how much he was enjoying himself.
Heritage Day and the ANC are placed second and third respectively, followed by Kulula.co.za. Idols, a perennial favourite for the rankings, still makes an appearance at number seven, as the country counts down to the final winner being announced in a few weeks time.
Fastest rising web searches, South Africa, last 7 days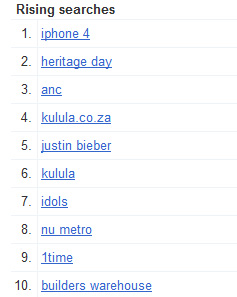 Lady Gaga's 'scandalous' meat dress, which she wore at the MTV Music Awards, has stolen first place on the list of fastest rising image searches in September, while Bees Roux remains the top newsmaker for the month. He is followed by ANC Youth League Leader, Julius Malema; the Blue Bulls; President Zuma; the Currie Cup; and controversial Bok coach, Pieter de Villiers.
Fastest rising image searches, South Africa, last 30 days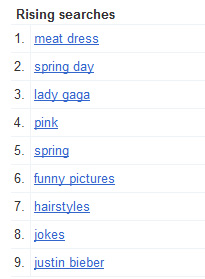 Fastest rising news searches, South Africa, last 30 days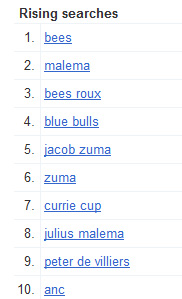 Anyone can use Google Insights for search to come up with their own rankings
Related articles
Topics for this article