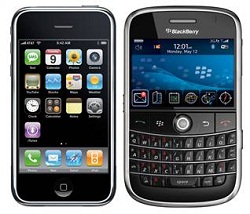 In November of last year, my phone contract was up for renewal and I got an… oh, to hell with it! Yes, I got an iPhone 4. I suppose that at times, my overwhelming fascination with BlackBerries could have been construed as evangelical, and so, news of my apparent defection spread as heresy.
I own a BlackBerry Curve 8520 and a BlackBerry Bold 9000 and I have the type of affection for them that a (good) father has for his children. The decision was a hard one to make. I had sleepless nights and at times, engaged in existential conversations with myself that carried on long into the early hours of the morning.
Aware that my contract renewal was approaching I started doing my research. I re-read the article I wrote on BlackBerry's shortcomings and looked at RIM's roadmap for 2011. I looked at the BlackBerry handsets available at that time, and at those coming first quarter. At the time I could choose between the Torch, and the Bold 9700.
I've always felt the Torch was underpowered, and 6 months later RIM announced the Torch 2, looking almost identical to its predecessor with the addition of a 1.2 GHz processor. The Torch 2 is what the original Torch should have been. The 9700 was showing its age, and despite OS 6 and doubling the onboard memory, even the Bold 9780 – promised for South Africa in 2011 – felt like too insignificant an upgrade from the 9700. It would have the same 624 MHz processor my two year old Bold 9000 has. No thanks.
I was and still am excited about the PlayBook – in my opinion a template for the future of all BlackBerries -, but RIM had no definite, (short term) plans for rolling out QNX to their smartphones. I wasn't too taken with OS 6, which I felt was an iterative upgrade from OS 5, and my hope of an imminent QNX revolution dwindled further when, according to reports, BlackBerry OS would evolve into OS 7, straddling between the legacy and QNX systems, and eventually transform into a QNX system at BlackBerry OS 8. How long would that take?
As I write this today, news of the Bold Touch, new Curve (Apollo), Torch 2 Curve Touch, and Storm 3 (Monza) have surfaced and are rumoured to launch with OS 6.1 in late 2011. Although RIM has become more competitive in terms of their hardware internals, by the looks of these new devices, they are still a cycle behind. Manufacturers such as LG, Samsung and Motorola are readying dual core Tegra 2s.
Sizing up the competition
After coming to terms with the fact that my next phone would not be a BlackBerry, I compiled a list of the best smartphones for each platform available in South Africa at the time.
Windows Phone 7 became available, but the platform was not mature enough. Despite great hardware from HTC and an aesthetically sound OS, too few apps, and no multi-tasking were deal breakers for me.
How about Nokia then? Having had some hands-on time with the N8, Nokia's flagship phone, the 12 megapixel camera did not do enough to make me willing to stomach the now defunct Symbian 3. I'm hoping the partnership with Microsoft does Nokia well, and maybe 2 years from now, Nokia smartphones will be relevant again .
It came down to choosing between Android and iOS. Both great platforms, both very different philosophies. In the end, as crazy as it sounds, Instagram blew up right around then, and a mixture of that, plus a good helping of hype made me choose the iPhone 4 over the best Android offering available in South Africa at the time, the Samsung Galaxy S i9000.
It's been 4 months now…
As of today, I'm still carrying my BlackBerry with me. That's right, 4 months after I attempted to check into CrackBerry rehab, I still haven't been able to cut the cord completely. I now carry around my wallet like a handbag, because my second trouser pocket is now home to another smartphone. I prefer thinking of my pockets as gun holsters, though. BlackBerry in the one, iPhone in the other. I'm sure cowboys will understand.
So why can't I bring myself to leave the BlackBerry at home?
Battery
With double the screen real estate, the iPhone's battery has to work that much harder. No matter how hard I try, I can't seem to get through a full day on a single charge. Maybe it's because of the many great apps that it's difficult to leave the phone be, but I've had to consciously curb my use, dim the brightness and opt for EDGE only.
No BBM/Socialscope
Life without BlackBerry Messenger is meaningless. There is just nothing close to it on the iPhone. Whatsapp and Ping are simply cheap, unreliable imitations. Also, my favourite social media app, Socialscope, is BlackBerry only for now.
Podcast download sizes over 3G
The other night, I came home and fell asleep with my clothes on. Wiping the drool from the corner of my mouth, I rushed to work forgetting to download my favourite podcast over my home Wi-Fi. I have a 4 hour commute each day, and podcasts are the only thing keeping me from going Columbine. No worries I thought, and pulled my iPhone closer, only to discover a 20MB podcast limit over 3G/EDGE. "Egads!", I exclaimed and tried my BlackBerry. It worked, and all was right again with the world.
Bandwidth
I didn't even last a week on my iPhone before I Robot Unicorn Dashed through my cap. Yes when the BlackBerry Internet Service goes down, I want to kick puppies, but it's well worth the unlimited data plan.
Keyboard
I don't think I'll ever get used to typing on glass; I miss the tactility. I frequently switch between English and Afrikaans and the BlackBerry's input system handles this more elegantly by underlining words it doesn't understand; not auto-"correcting" them.
Slippery when dry
If I didn't take out insurance on this phone, my phone would be the kid with the helmet, elbow and knee pads on the rugby field. On two occasions those who've held my iPhone have let it slip like a bar of soap. Even I, aware of its alkaline quality, have let it slip, now sporting scars on my forehead to prove it.
Notifications
The iPhone doesn't have an LED to alert you of notifications. Messages just pop up at the most inopportune moments. Kevin (Grant) from Memeburn, and myself were privileged to attend NAIAS in Detroit a few weeks ago. During a demonstration of MyFord Touch, my video recording got interrupted at a critical moment. I wanted to throw the iPhone out the stationary car's window.
Closing / Exiting apps
Why don't apps have Close / Exit options? I have to double-tap to open the app switcher, press and hold an icon, wait for the jiggle, and hit the X. Tedious.
Multitasking
If I'm waiting for a YouTube video to buffer over 3G, I have to stare at the loading screen while I wait. I can't work on an email in the meanwhile. This is not true multitasking, where an app can do whatever it wants in the background. Apps can only make use of standardized 7 background processes.
Ringtones
Why can't I just make any song my ringtone? Why do I have to use iTunes or download an app to do that?
Filesystem and Bluetooth
I'm used to browsing my BlackBerry's file system and transferring any file types to and from my laptop via Bluetooth. I can't do this on my iPhone. The directory structure is hidden. So much so, that you can't upload media files such as pictures or video to web sites. The "Choose file" button is always disabled.
The problem causes further problems when it comes to zipped files. BlackBerry OS unzips the archive; not so on the iPhone – out of the box at least.
Alarm
My BlackBerry's alarm kept working New Years day 2011. Thank goodness for that. Granted it was a Saturday, but whatever.
Why can't I bring myself to leave the iPhone at home?
Push
The entire BlackBerry ecosystem is built around "Push" technology . With iOS it's not as pervasive, but it does rather brilliantly when it comes to email.
Being a GMail user, at first I was puzzled that Push was not supported when I chose the Gmail option from the list of accounts. Unlike Mobile Me, GMail appeared to only have the "Fetch" option. I looked to the West and mumbled something derogatory towards Cupertino, and set my account to look for new messages every hour or so (to preserve battery).
Fast forward a few months and to my embarrassment, I discover that Push is supported on the iPhone through Google Sync and Microsoft Exchange. Having made the correction, on occasion, mail is now delivered to my iPhone seconds before it arrives on my BlackBerry.
Oh, and it's pure joy to have proper IMAP with Gmail.
Camera
Having had a look at the best BlackBerry has to offer in the Torch, the iPhone 4′s 5MP camera was a revelation. The picture quality, camera interface, in app video editing for your 720p videos, and the wealth of photo editing apps are astounding.
Gaming
I'm not a gamer, so an iOS device never appealed to me for that reason, but I've come to enjoy the casual gaming heavy hitters such as Cut the Rope, Angry Birds and erm, Robot Unicorn Attack. I can totally understand the pricing appeal for this platform, especially with titles like Need for Speed Hot Pursuit that I picked up for a absolutely mad 99 US cents over the holidays.
Preferential treatment
In the smartphone world, having an iPhone is like being treated as a VIP guest at a party. Many sites are specially formatted for iPhone and most apps arrive on iOS first. I'll never forget the one time I was at an airport and my international roaming wasn't working only to discover Boingo, an iPhone app that gave me an hour's free access to the local Boingo Wi-Fi hotspot.
Aesthetics
Visually, iOS is stunning. Third party applications tend to fit well within the overall iOS design ethic, and contribute to a polished and cohesive experience. The BlackBerry OS on the other hand tends to be more utilitarian, and you never really know what to expect from a third party application. The iPhone 4 itself? Well it's just pure sex.
Memory leaks
Rebooting my BlackBerry is a way of life. Memory leaks and just general use at one stage had me rebooting my phone every day to counter the inevitable slow downs. I did a clean OS install, and it's better now, but I hardly ever reboot my iPhone.
Next gen hardware
The iPhone has better hardware internals and externals than any BlackBerry currently out on the market, meaning that the phone has some longevity.
Wait, no. Who am I kidding? I'm probably going to "need" an iPhone 5 when it comes out. I just don't know it yet.
Related Articles on the Web
Related articles
Topics for this article